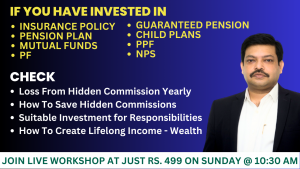 Dear Friend,
Ever wished to have secured future with your investments?
Check your all the investments in Insurance, Mutual Funds, Pension Plan and other Small Saving investments
I have a session on Sunday @ 10:30 AM.
I will discuss the –
Q. All the investments and how to check whether it is beneficial for you or not.
Q. How much you are saving and investing today for retirement?
Q. What is the future of your investments?
Q. What are the ways to create your pension?
login with a laptop is suggested as You will do some calculations with me.
After mentoring 15000 plus families and bankers / advisors as financial planner I can say that all you need is the fool proof planning of your retirement.
With provision for 30-40 years for your wife and you after leaving job.
In my rich experience of last 18 years I worked closely with people, who fund their foreign vacations, cars, farm houses and upper lifestyle even after retirement because of proper planning.
Satyam was at a senior level in IT, was making good salary in 2009. He was struggling with financials and at that time I calculated future of his investments and found that he would have to work up to the age 68. With implementation of 6 Wealth Habits, by 2018 he created wealth of 11.8 crores, that will support him for entire life and his next generation too.
I shall give 4 Bonuses in the session
1. Master Differentiator Tool in Excel – I use to check any investment proposal for my clients.
2. Way to save hidden commissions on Mutual Funds to add 30% on Maturity Value.
3. Life Time Access to our portal
4. My E-book
5. Unique tools for planning
Many more…
Valued at Rs. 3000 all these are available at Rs. 499/- for 1st 100 persons on first come first serve basis.
This session has the potential to change the way you handle money forever. You will know how to create never ending wealth with your savings. You may also add our hand holding after the session.
Book your seat now!